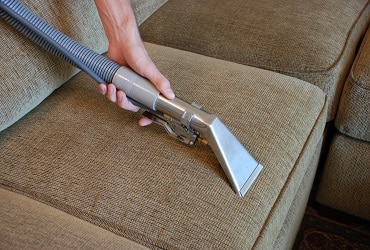 Furniture & Upholstery Cleaning
Upholstered furniture comes in a variety of materials, each one requiring a specialized cleaning technique to protect the integrity of the fabric as well as the colorfastness of the material. When cleaning upholstered furniture, it's important to work with a professional and certified technician who can identify the type of material and cleaning process required to clean your furniture and restore it's beauty by removing dirt, stains, and odors.
Atlanta Top Force Services has the expertise necessary to handle all types of fabrics including silk, wool, and cotton. Our trained and certified technicians will clean, sanitize, deodorize, and protect your upholstery with a low-pressure spray and light agitation that allows stubborn stains to be lifted and removed from your fabric.
The cleaning process we use allows your furniture to stay cleaner for a longer period of time because we only use all natural cleaning solutions that do not leave residues behind. This process will also remove 98% of any bacteria and microbes with our state of the art technology that gives you that thorough deep cleaning you're looking for.
Sanitizing and Deodorizing Upholstery
Atlanta Top Force Services offers Upholstery Sanitizer that will clean and disinfect your furniture, eliminating most bacteria. This process will help remove unwanted odors and germs that may become harmful to your family and pets. Disinfecting and deodorizing your home is the first step towards A Cleaner Today For A Healthier Tomorrow!!!
Sometimes our family pets will leave behind nasty and foul odors as they lay or play on your furniture. Unfortunately, some of your pets may also use furniture to mark their territory and leave behind urine stains and odors. Most cleaning products are not strong enough to neutralize and remove the odors or they are too abrasive to use on most fabrics. Our removal treatment products are safe to use on most furniture and fabrics to remove any pet urine stains and odors.
Atlanta Top Force Services takes pride in using all non-toxic and environmentally safe products around your family, children, and pets and yet strong enough agents to remove the stubborn pet odors and stains. For additional information visit our Pet Odor Removal section.
A CLEANER TODAY FOR A HEALTHIER TOMORROW!
We offer Fabric Protection that creates a barrier over your fabric to protect it from future spills or stains. The protection will allow the spills or stains to remain only on the surface of the fabric, preventing absorption into the fabric. This process will allow the homeowner to maintain their Upholstery/Furniture more efficiently. This will also keep your Upholstery/Furniture looking like new!